Polycaprolactone Sheet Extrusion Line (Medical PCL Low Temperature Thermoplastic Sheet Production)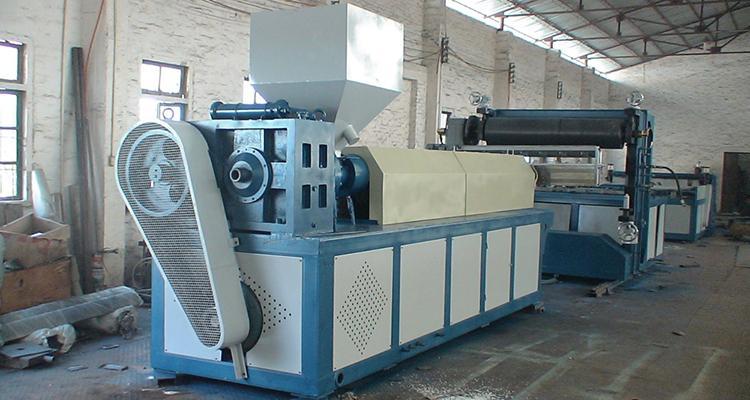 Application
The polycaprolactone sheet extrusion line is used for manufacturing low temperature thermoplastic sheets that are primarily used for orthopedics and a low temperature splint for rehabilitation, radiotherapy positioning film and anti-sticking applications. They are also extensively used in many medical fields, such as radiation therapy, fractures, orthopedics, rehabilitation and burn care.
---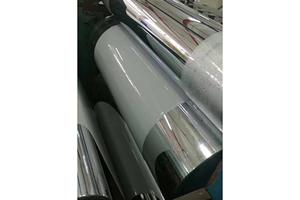 Product parameters
Main feedstock of the line is PCL (poly-caprolactone), as it has an excellent biodegradability, biological solubility and is non-toxic. The extrusion temperature is lower than 90Co, and in single layer extrusion, the maximum sheet width is 1500mm with a sheet thickness of 1.6mm-4mm. The line's capacity is 150Kg/hr, though that is customizable upon customer request.
| | |
| --- | --- |
| Model No. | XSH-001 |
| Product layer number | Single-layer sheet |
| Product thickness tolerance | ±0.01mm |
| Useful width | 610-1220mm (Max.) |
| Thickness range | 1.6mm-4mm |
| Output capacity (Max.) | 150kg/h(gross) |
| Material | poly-caprolactone |
| Screw size | 120mm |
| Motor power | 75KW |
| Cooling system | Chiller |
Standard sheet for Chinese customer
Standard size: 920x610mm(big sheet) Standard Thickness: 1.6, 2.4, 3.2, 4.0
Standard size: 460x610mm(small sheet) Standard mesh: 0%, 1%, 2%, 5%, 12%, 19%
Note: Xiaoshan provides customized extrusion lines upon request. Please contact us for more detailed data.
Features
Screw design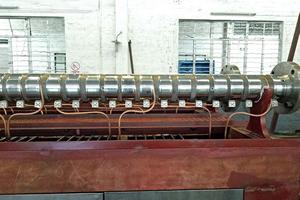 The screw structure is designed according to different plastic materials. In this design, plastic is heated until it's turned to a liquid, in a process known as a plasticizing method. Plastic materials undergo different plasticizing methods based on different designs and requirements, such as the venting for acrylonitrile butadiene styrene (ABS), uniform and fine foam structure, more pores for foamed polypropylene and polyethylene. Different screw designs for different plastic materials help to reduce the reaction force of bearings. Because of that, the torque on the electronic motor is generally less, allowing for a better energy saving effect.
This is the main motor of the polycaprolactone sheet extrusion line, with the main screw's diameter being 180mm, and the auxiliary screw's diameter of 90mm.
---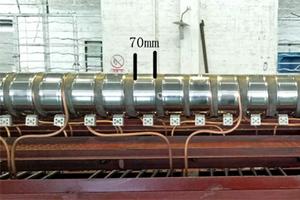 Heating system
Xiaoshan's plastic sheet extrusion line utilizes a unique screw heater with a width of 70mm. Fine gaps between the heaters achieve a uniform heating and stable temperature control, which are both critical for the foaming process.
---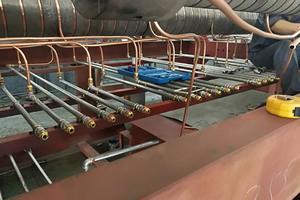 Temperature Control System
Our plastic sheet extrusion line also utilizes a unique copper pipe oil cooling system for screw cooling, which can precisely control the temperature in a range of ±1℃ in order to achieve an optimum plasticizing effect. Different from other systems that typically use a wind cooling process, Xiaoshan uses an oil cooling process. Wind cooling is not always effective, as the cooling process is not stable because it relies on seasonal wind temperatures, which in turn means product quality will vary. With oil cooling, however, the cooling process is stable, making this plastic extrusion line ideal for even medical grade PCL (Poly-caprolactone) low temperature thermoplastic sheet production with a temperature lower than 90℃. The oil cooling system requires only a pump requiring 0.37Kw-1.5Kws of power.
---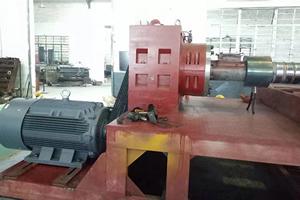 Gearbox configuration
Xiaoshan uses a gear box with increased capacity. For example, for screws with a diameter of 120mm, the SJ280 gearbox works, but the SJ315 is an even better choice as it does not easily become damaged under a full load. Thus, with a full load, the SJ315 can be used for longer periods of time with less maintenance requirements to the benefit of both the customer and the supplier.
Customers that have bought a low temperature thermoplastic sheet production line from us include Guangzhou Klarity Medical & Equipment Co., Ltd. and Guangzhou Sinan Medical Equipment Co. Ltd.
---
Sales case
Low temperature thermoplastic sheets manufactured by Xiaoshan have been sold to Klarity Green and SUN Medical.
These thermoplastic sheets are made using a special synthetic high molecular polyester, which is a new material that has undergone a series of physical and chemical treatments, with molecules that remain stable under dry room temperatures (10℃-30℃), soften in 65-70℃ water after heating for 1 to 3 minutes, and harden under room temperature within 3 to 5 minutes. The material is light weight, features a high strength and excellent permeability, and it is waterproof, allows X-rays to be transmitted through, non-toxic and tasteless, is a non-skin irritant, and is biodegradable. All of these features make it an ideal external fixation material, especially as plastic medical fixation parts for bones, joints, soft tissues, nerve injuries, burns, rehabilitation fixation and other medical purposes.
Medical Grade Plastic Sheet Extrusion Line by Guangzhou Customer