Parallel Twin Screw, Single Screw Sheet Extrusion Line (EVA Foam Sheet, PE, PP, ABS Sheet Production)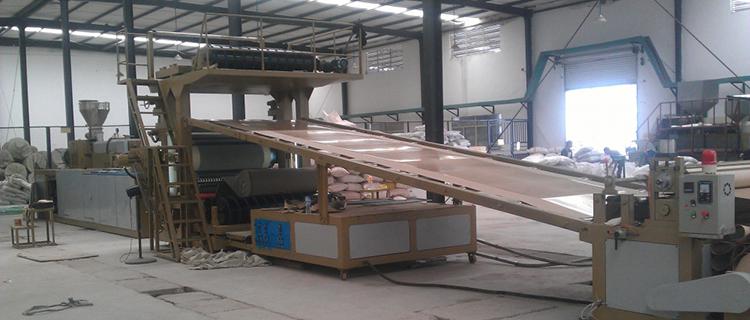 Application
The parallel twin screw, single screw sheet extrusion line is designed for producing EVA Foam Sheet, PE, PP, and ABS sheets. This extrusion line has a full range of functions, a high automation level, excellent stability and a high production efficiency. It can produce sheets using EVA and ABS material, in thicknesses ranging from 0.6mm-8mm and a maximum width of 4000mm. The engineering plastic sheet can be extensively used as automobile interiors, engineering waterproof coils, stripping plates and composite decorative boards, as well as other applications. This twin screw sheet extrusion line supports a capacity of 7,000 tons on an annual basis.
Product parameters
| | |
| --- | --- |
| Model No. | XSH-004 |
| Material | EVA material (30%) +mineral filler in powder form(70%) |
| Machine size | 25mx2.9mx2.8m(LxWxH) |
| Useful width | 4500mm (Max.) |
| Thickness range | 1mm-4mm |
| Output capacity(Max.) | 800kg/h(gross) |
| Main motor power | 315kw |
| Screw Size | Parallel Twin Screw: φ90mm, L/D=48:1 single screw: φ180, L/D= 14:1 |
| Power supply | 380V/3P/ 50Hz |
Note: Xiaoshan provides customized extrusion lines upon request. Please contact us for more detailed data.
Features
Screw design
A parallel twin screw is utilized on this line for its outstanding plasticizing effect. As it is composed of different shapes, it allows the extrusion line to have a high capacity and low energy consumption.
---
Heating system
Xiaoshan's plastic sheet extrusion line utilizes a unique screw heater with a width of 70mm. Fine gaps between the heaters achieve a uniform heating and stable temperature control, which are both critical for the foaming process.
---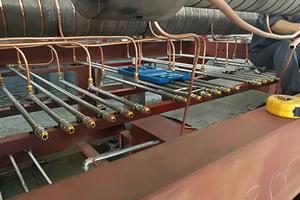 Temperature Control System
Our plastic sheet extrusion line also utilizes a unique copper pipe oil cooling system for screw cooling, which can precisely control the temperature in a range of ±1℃ in order to achieve an optimum plasticizing effect. Different from other systems that typically use a wind cooling process, Xiaoshan uses an oil cooling process. Wind cooling is not always effective, as the cooling process is not stable because it relies on seasonal wind temperatures, which in turn means product quality will vary. With oil cooling, however, the cooling process is stable, making this plastic extrusion line ideal for even medical grade PCL (Poly-caprolactone) low temperature thermoplastic sheet production with a temperature lower than 90℃. The oil cooling system requires only a pump requiring 0.37Kw-1.5Kws of power.
---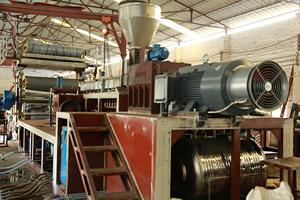 Gearbox configuration
Xiaoshan uses a gear box with increased capacity. For example, for screws with a diameter of 120mm, the SJ280 gearbox works, but the SJ315 is an even better choice as it does not easily become damaged under a full load. Thus, with a full load, the SJ315 can be used for longer periods of time with less maintenance requirements to the benefit of both the customer and the supplier.
---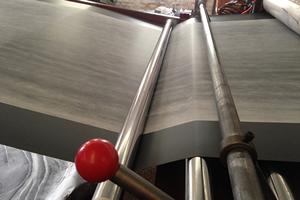 Product advantage
The core of the line uses two sets of independent extruders (one set is a twin screw extruder, another is a single screw extruder). The twin screw extruder works to melt, mix and exhaust the material while the second extruder completes the extruding process and forms a panel from the mold head. In doing so, requirements for extrusion pressure and stability of the resultant high fill EVA sheet are met. Maximum production output of the line is 800-1000Kg per hour. Feedstock can add CaCO3 by 40%-50%, which is an effective way to reduce material costs and increase the company's profits.
This line is easy to maintain. Because the parallel twin screw is an assembled part, it can be replaced individually and easily, and still offers an outstanding plasticizing effect.