Three Layer Co-Extrusion Sheet Line (High Density PE Sheet Line for Cap Visor Making)
Application
This highly effective 3 layer sheet co-extrusion line is newly developed and designed by Xiaoshan, and is a piece of three screw extrusion equipment. Applicable materials include HDPE and PP. This extrusion line can produce not only cap visors (for baseball caps, sun hats, army caps, and other hats), but it can also be used for luggage and bags, handbags, golf bags and packing industries, just to name a few. Product thickness ranges from 0.8mm-5mm, with a width of 300mm-2000mm, and foaming density of 0.5-0.75/cm3. Upon customer requests, the line can also be used to produce sheets from other materials, such as ABS and PVC.
Product parameters
| | |
| --- | --- |
| Model No. | XSH-003 |
| Product layer number | Three-layer sheet |
| Product thickness tolerance | ±0.01mm |
| Useful width | 1200mm (Max.) |
| Thickness range | 1mm-4mm |
| Output capacity (Max.) | 200kg/h(gross) |
| screw size | Main screw size: 120mm Two auxiliary screw size: 60mm |
| Main screw motor power | 75kw |
| Machine size | 23Mx2.5Mx2.5M |
| Power supply: | 380V/3P/ 50Hz |
Note: Xiaoshan provides customized extrusion lines upon request. Please contact us for more detailed data.
Features
Screw design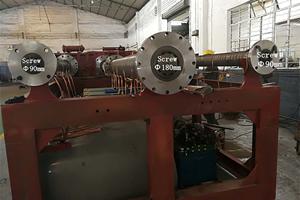 The screw structure is designed according to different plastic materials. In this design, plastic is heated until it's turned to a liquid, in a process known as a plasticizing method. Plastic materials undergo different plasticizing methods based on different designs and requirements, such as the venting for acrylonitrile butadiene styrene (ABS), uniform and fine foam structure, more pores for foamed polypropylene and polyethylene. Different screw designs for different plastic materials help to reduce the reaction force of bearings. Because of that, the torque on the electronic motor is generally less, allowing for a better energy saving effect.
This is the main motor of the three-layer sheet co-extrusion line, with the main screw's diameter being 180mm, and the auxiliary screw's diameter of 90mm.
---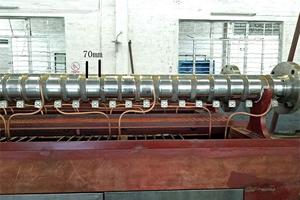 Heating system
Xiaoshan's plastic sheet extrusion line utilizes a unique screw heater with a width of 70mm. Fine gaps between the heaters achieve a uniform heating and stable temperature control, which are both critical for the foaming process.
---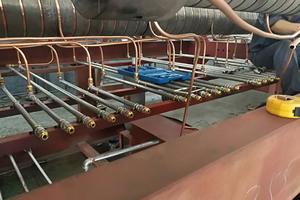 Temperature Control System
Our plastic sheet extrusion line also utilizes a unique copper pipe oil cooling system for screw cooling, which can precisely control the temperature in a range of ±1℃ in order to achieve an optimum plasticizing effect. Different from other systems that typically use a wind cooling process, Xiaoshan uses an oil cooling process. Wind cooling is not always effective, as the cooling process is not stable because it relies on seasonal wind temperatures, which in turn means product quality will vary. With oil cooling, however, the cooling process is stable, making this plastic extrusion line ideal for even medical grade PCL (Poly-caprolactone) low temperature thermoplastic sheet production with a temperature lower than 90℃. The oil cooling system requires only a pump requiring 0.37Kw-1.5Kws of power.
---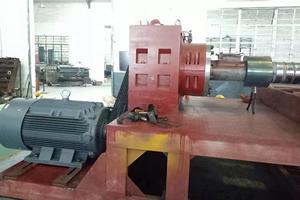 Gearbox configuration
Xiaoshan uses a gear box with increased capacity. For example, for screws with a diameter of 120mm, the SJ280 gearbox works, but the SJ315 is an even better choice as it does not easily become damaged under a full load. Thus, with a full load, the SJ315 can be used for longer periods of time with less maintenance requirements to the benefit of both the customer and the supplier.