Company introduction
Looking for a trusted name in quality plastic sheet and board extrusion line production? Please consider a professional, high-quality manufacturer like Xiaoshan Plastic Machinery Co., Ltd. Our prime, strategic location in the beautiful Shunde District, Foshan City, Guangdong Province, China, provides significant logistical advantages over other names in the plastic extrusion industry in all aspects of our business. Some of those advantages are found in product development, design, manufacturing, sales, maintenance and upgrades of current equipment. First established in 2003, Xiaoshan now has 14 years of experience in the production of high quality, safe and efficient plastic sheet and board extrusion lines. We also have a strong capacity for research and development, allowing us to offer our customers customized, innovative products, as well as standard extrusion lines that meet all customer requirements for a comprehensive array of applications. Sheets produced on our lines feature a thickness ranging from 0.2mm to 15mm, and widths ranging from 200 to 5,000mm. Our product catalogue is extensive, the better to help meet a wide range of customer needs, and includes single screw extrusion lines and three-layer co-extrusion sheet and board production lines, conical twin screw sheet and board extrusion lines, and parallel twin screw sheet and board extrusion lines.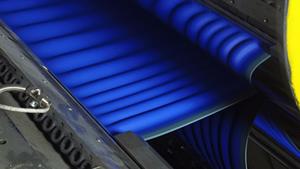 The lines independently developed and designed by Xiaoshan are listed below:
Three Layer Co-extrusion Micro Form Sheet and Board Extrusion Line
3 Layer Sheet Co-Extrusion Line
Polycaprolactone Sheet Extrusion Line
Parallel Twin Screw, Single Screw Sheet Extrusion Line
Foam Sheet Extrusion Line
Plastic Sheet Extrusion Line
Honeycomb Composite Panel Extrusion Line
Micro-Foam Sheet Extrusion Line
In addition to offering outstanding production and new, effective products, we also offer services for maintenance, upgrades and refurbishment of old or damaged extrusion lines in order to get them up and running like new again. Whatever the client needs, Xiaoshan will work together with them to find the optimal operational solution at the most cost-effective price!
Xiaoshan's Core Advantages
One of our most popular products is an advanced micro foam sheet extrusion line. This extrusion line has an outstanding, well-deserved reputation in the industry, due to its excellent and reliable performance. Materials used on this extrusion line to produce micro foam sheets include TPU, TPE, TPR, EVA, PE, PP, PS and ABS.
Below, we list a few advantages of the micro foam sheet, offering a glimpse as to why it is so popular among our customers.
The foamed sheet utilizes a chemical foaming technique with no cross linking. The density ranges between 0.45 to 0.75g/cm3, with a thickness ranging between 1 to 20mm. The final foamed sheet features an outstanding thermal stability (PP foam sheets can be used in environments where temperatures reach up to 120°C) and will remain stable, retaining their original size even under these high temperatures. These sheets also feature a nice, smooth surface, as well as a high impact resistance to heavy objects, due to the micro foaming technology used in production. In addition, the plastic foam sheet made by our extrusion lines is known for its environmentally friendly biodegradable characteristics, as well as its outstanding machining characteristics. So, our equipment produces products that are highly durable, beautiful and eco-friendly! All this at very competitive prices!
Other advantages to the foam sheet are listed below.
1. Excellent heat resistance
2. Outstanding mechanical properties
3. Notable heat insulation
4. High impact resistance due to the micro foaming technology
5. High stress cracking resistance
6. There is no toxic gas given off during combustion, unlike foam PVC materials.
7. Recyclable
Xiaoshan's plastic sheet extrusion lines are popular among a customer base that spans the globe, including Australia, Russia, Vietnam, Bangladesh and other Southeast Asian countries. Customers from this varied array of countries find our equipment is an optimal solution, so give us a chance and you will see you can save valuable investment dollars and upgrade your equipment, for better performance and durability at the same time! For more information, please do not hesitate to contact us!